SKCTC to Host East Kentucky Leadership Conference
Cumberland, KY – Southeast Kentucky Community and Technical College (SKCTC) will host the 32nd annual East Kentucky Leadership Conference April 25-26 in Benham and Cumberland, Kentucky. This year's theme is "Getting Ahead of the Curve: Growing a 21st Century Economy."
The conference will bring together people from all over Eastern Kentucky to network, to share ideas, and to address issues relevant to the region. It will also offer intensive sessions and breakout sessions with topics in line with this year's theme, including the following:
Growing a Hemp Economy
Capitalizing on the Economic Potential of Lakes
Using 21st Century Technology to Build Your Business
Broadband in Eastern Kentucky: It's Happening!
Meeting the Need for the 21st Century Healthcare Workforce.
WYMT's Neil Middleton will emcee the annual awards ceremony, which recognizes and rewards those who have shown outstanding leadership.
According to Dr. Carolyn Sundy, East Kentucky Leadership Foundation Vice-Chair, "Any community leader or individual who aspires to take on a leadership role in Eastern Kentucky—I encourage you to attend."
Peter Hille, EKLF chair and president of Mountain Association for Community Economic Development, says that the conference "isn't just for elected officials or recognized leaders. It's for everyone. We call it a leadership conference because everyone can exercise leadership by taking part in building a brighter future for our region."
Registration will be open from 8:30 a.m. to 5:00 p.m., Thursday, April 25 and from 7:30 to 8:30 a.m. Friday, April 26. Conference sessions begin at 10:30 a.m. Thursday, and the awards ceremony begins Thursday at 7:30 p.m. Participants can register online at EKLF.org. Cost is $50, and $25 for students.
For more information, please contact Carolyn Sundy, 606-589-3052 Carolyn.sundy@kctcs.edu; Erica Farmer Miller, 606-248-2180 Efarmer0003@kctcs.edu; or Mark Wireman mwireman@bellsouth.net. To register on line, visit www.eklf.org or mail in a registration to Dr. Deborah Hodge, SKCTC, 700 College Drive, Cumberland, KY 40823.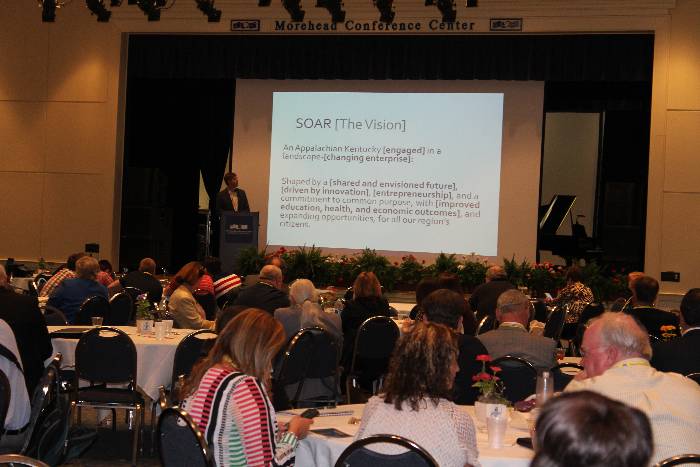 PHOTO CAPTION

(Jared Arnett, Executive Director of Shaping our Appalachian Region--SOAR, addresses participants at last year's EKL Conference.)