Winter Session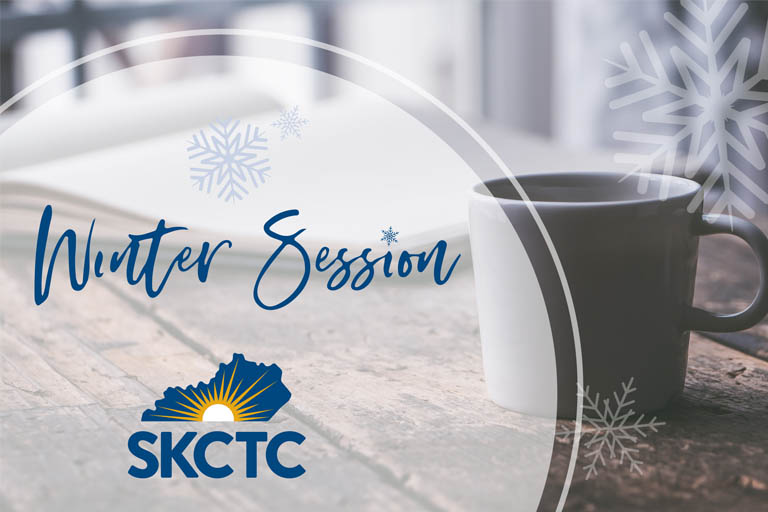 2021 winter session
December 13, 2021 - January 9, 2022
Fast, affordable classes: SKCTC's 4-week, online, winter session is for everyone.
All courses easily transfer to other colleges and universitites and fulfill general education requirements.
Classes to choose from
Medical Terminology (AHS 115)
Human Ecology with Lab (BIO 120/121)
Basic Anatomy/Physiology with Lab (BIO 135)
Introduction to Computers (CIT 105)
Principles of Microeconomics (ECO 201)
Principles of Macroeconomics (ECO 202)
Writing I (ENG 101)
Writing II (ENG 102)
Achieving Academic Success (FYE 105)
History of the US Through 1865 (HIS 108)
The World at War, 1939-45 (HIS 120)
College Algebra (MAT 150)
History & Sociology Rock Music (MUS 222)
American Government (POL 101)
General Psychology (PSY 110)
Real Estate Principles I (REA 100)
Modern Social Problems (SOC 152)
Technical Communications (TEC 200)
The winter session classes are general education classes that easily transfer to any degree or any of Kentucky's public universities (UK, MSU, EKU, etc.)
If you are already a student at Southeast, just talk to your advisor about signing up for classes.
If you are visiting Southeast during our Winter Session, we have a simple application process:
You've Got This!