Medicaid Nurse Aide State Exam
Medicaid Nurse Aide State Exam
Upon successful completion of the Medicaid Nurse Aide Course you will be eligible to take the Medicaid Nurse Aide State Competency Exam. In order to schedule a test appointment payment must be made in advance. The cost of the test is $75.00. Repeat performance (skills) is $60.00 and repeat written is $15.00. Please see options below for payment process.
1. Payment of cash, credit\debit card, money order can be made at the Pineville Business Office (if you choose to pay by check you will not be scheduled a test date for at least 30 days). Please pay only to the Pineville Business office to avoid delays in scheduling of test.
2. Phone credit card transaction can be made by calling Elizabeth Greene 606-248-2085 at the Pineville Business office.
3. Mail money order along with a note requesting a nurse aide test date, the date you completed the course and the instructor s name and a phone number where you can be reached.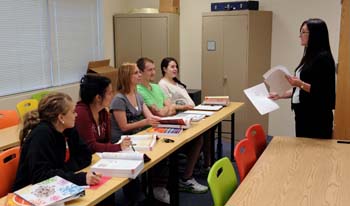 Mail to:
SKCTC
Attn: Elizabeth Greene
10350 US Highway 25 E
Pineville, KY 40977
After payment has been received you will then be contacted for your scheduled test appointment. Individuals who do not show up for their test appointment will forfeit their test payment. Cancelation of a test date must be made within five business days prior to the test appointment. Failure to do so will result in individuals forfeiting their test payment, unless prior arrangements and approval were made with the nurse aide coordinator. Contact Jennifer Nolan at 606-248-2159 or
skctcnurseaide@kctcs.edu
to cancel an appointment.
If you need to fax any documents, please use the secure fax number: 606-641-0011.
On the day of your examination you must present an unexpired state or Federal issued photo identification card (driver s license is acceptable) and bring an original non-laminated social security card. A letter from the social security office is not acceptable. Names must match on both documents please refer to your study guide procedures manual for proper ID information. Your documents must been in good condition. Test candidates that arrive at the test site without the proper ID s will not be allowed to test and will be required to reschedule their test. Test candidates who arrive late may be considered a no show.
Do not bring any testing material to the test site, cell phones and all electronic devices are required to be off and put away while testing. Please leave them locked in your vehicle. Failure to comply may result in your test being shredded.
Test candidates may not leave the building once testing begins. No family or guests are allowed in testing areas.
The test length is determined by the number of students scheduled and the length of the skills required that day therefore, you may want to bring snacks or change for the vending machine.
You have one year from the last day of your class to take the exam. If you go past that date, you are not eligible take the exam and will have to repeat the course.

Exam Results Test results will be mailed to you via postal mail. You should receive your test results in approximately 30 days. Test evaluators are not allowed to give any information regarding test results.

Nurse Aide State Registry Once you have completed the Medicaid Nurse Aide State Competency Exam you will receive a letter from the Kentucky Nurse Aide Registry stating that you have been added to the registry. You will then be considered as a State Registered Nurse Aide (SRNA). This will qualify you to work at a long-term care facility or other agencies that require active status on the nurse aide registry. The state registered nurse aide active status is good for two years and must be renewed. In order to renew and keep an active status on the registry you must work at least one eight hour shift in a 24 month period. If your active status expires after 24 months you must repeat the course and pass the state competency exam again in order to be placed back on the nurse aide registry. There are no longer challenge exams as of December 2006. For more information you may contact the state registry at 1-888-530-1919 or visit the Kentucky Board of Nursing Website.