Sportswriter Jamie Vaught to sign his new book – no. 6 – at three Eastern Kentucky locations
February 27, 2023
MIDDLESBORO, Ky. – If you're feeling nostalgic for the University of Kentucky's glorious basketball past, this could be the book for you.
Jamie H. Vaught, a longtime professor at Southeast Kentucky Community and Technical College who moonlights as a sportswriter, has penned another entertaining book about UK basketball. He will be signing copies of his new and sixth book at three venues in eastern Kentucky during the March Madness.
The title of the 408-page hardcover, which came out in mid-December, is Forever Crazy About the Cats: An Improbable Journey of a Kentucky Sportswriter Overcoming Adversity.
During the March Madness, Pulaski County Public Library in Somerset will host the first book signing which is scheduled for Saturday, March 4 from 10 a.m. to 12 noon.
The second signing is scheduled for Saturday, March 11 from 10 a.m. to 12 noon at Johnson County Public Library in Paintsville. Later, on that day, the author will appear at Read Spotted Newt bookstore in Hazard from 3 to 5 p.m.
The hardcover, which also contains UK football stories, features many fascinating and inside accounts about the Kentucky Wildcats. The featured individuals include Adolph Rupp, Joe B. Hall, Dan Issel, Mike Pratt, Cawood Ledford, Tubby Smith, John Calipari, Paul "Bear" Bryant, Ray Correll, Blanton Collier, Fran Curci, Jerry Claiborne, Vic Adams, Mark Stoops, Maci Morris, Oscar Tshiebwe (and his high school coach Rick Mancino), among others.
The book begins with a chapter on legendary broadcaster Cawood Ledford and ends with a chapter on legendary coach Joe B. Hall.
In addition to numerous UK stories and interviews, the book is also part memoir about Vaught's long, adventurous career of covering the Wildcats in basketball and football while overcoming personal adversity — a devastating hearing loss since birth. The author discusses his early personal struggles in dealing with his severe hearing impairment.
Also featured is a fascinating chapter about former prep basketball superstar J.R. VanHoose of Paintsville High School who once was recruited by UK. In addition, the book includes an enjoyable chapter about Vaught's childhood friend Roberto Clemente and the Pittsburgh Pirates.
The hardcover has received several positive reviews. "I have finished the book and really enjoyed it," said Lexington's Jim Host, the sports marketing pioneer who is also a member of the National College Basketball Hall of Fame. "I found it really entertaining with the sidebar stories about a number of individuals associated with UK. Jamie is a superstar in how he has overcome adversity in doing such a great job on this book."
During the 1980s and early 1990s, Vaught also wrote columns for The Cats' Pause for 13 years.
Other book signings are being planned at other Kentucky locations, including London. The book is available on Amazon.com (with free shipping) and at Joseph-Beth Booksellers in Lexington.
Vaught, who has taught at Southeast Kentucky Community and Technical College since 1991, is the program coordinator for the College's Business Administration program.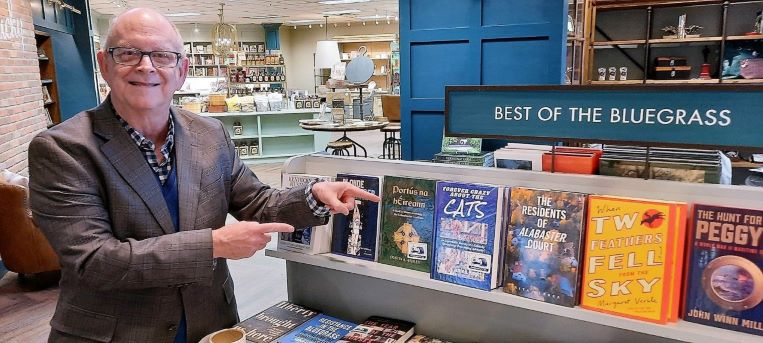 Author Jamie Vaught shows his new book at Lexington's Joseph Beth.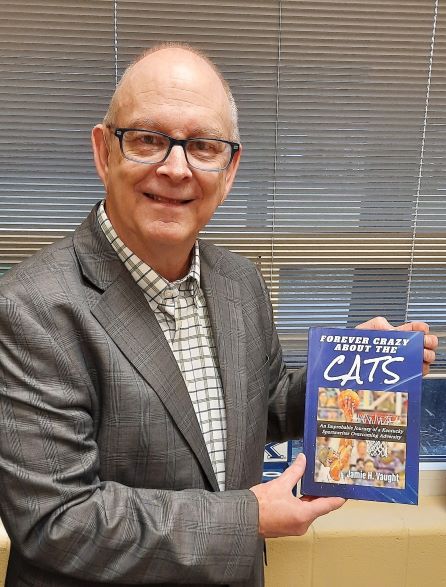 Jamie Vaught will sign his sixth book at three locations in Eastern Kentucky.