Southeast student receives W. Bruce Ayers scholarship
December 12, 2022
Cumberland, KY – Leah Sturgill, a second-year student at Southeast Kentucky Community and Technical College, has proudly received the W. Bruce Ayers scholarship during the 2022 school year. During her two years at Southeast, Leah has served as the student services student worker on the Cumberland Campus.
The W. Bruce Ayers scholarship was established in honor of Dr. Bruce Ayers, former Southeast President, to provide financial assistance to deserving students on any of our campuses.
"There is no greater pleasure for me than knowing that a scholarship extended in my name has helped someone to fulfill his or her God-given potential," said Dr. Ayers
Southeast has always been a great, affordable option for students in the mountains, but Leah's reason for choosing Southeast was more profound. Being a part of the Southeast family, Leah could remain close to her sister and remember the great times they shared on campus. Leah recalls her sister attending Southeast and being a highly active student on campus.
"My sister and I always attended the pageants together, so I have a lot of memories of her there. Not only has Southeast provided me with close connections, but it has also provided me with amazing opportunities, like my work study," she said.
After graduating with her associate of science degree this December, Leah plans to transfer to Eastern Kentucky University in January where she will pursue a bachelor's degree in social work.
"My dream is to build a therapeutic riding stable. Riding horses has played a significant role in my life, and I want others to be able to experience the benefits of riding, mentally and physically," Leah said.
According to Professor Carlton Hughes, Leah shows a sense of excellence in everything she does.
"Her hard work and determination earned her one of the highest grades in the course. Beyond that, I have worked with Leah through her work-study with Student Services. Most recently, she helped organize our packing party for Operation Christmas Child. Her keen organizational skills and dedication helped make the program a great success this year!" he said.
Leah's dedication to excellence does not end in the classroom.
Her supervisor, Katina Fields, said, "Leah has been an incredible student worker. She has great ambition and initiative and brought high energy to our office."
Fields said that Sturgill coordinated many student activities this past year.
"Leah has a huge heart for others and continuously shows dedication and service to others during times of need. She is brilliant and talented, on and off campus," Katina said.
For more information about scholarship opportunities at Southeast, contact Kim Hobbs at 606-248-0143 or kima.hobbs@kctcs.edu.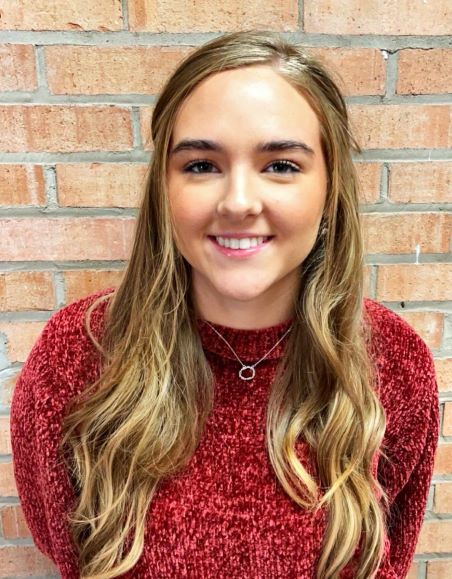 Leah Sturgill was awarded the W. Bruce Ayers scholarship.