Southeast's Lillian Faye Simpson golf classic a success
Cumberland--On April 22, 2022, Southeast Kentucky Community and Technical College held its annual Lillian Faye Simpson Golf Classic at the Sleepy Hollow Golf Course in Cumberland. According to organizer Monique Allen, the event raised $12,500 for student scholarships.
"I am very pleased with this outcome," said Allen. "This was our first tournament since 2019, just before the pandemic, and our students will greatly benefit from these much-needed scholarship funds."
According to Allen, 13, four-person teams competed, and many local individuals and businesses purchased sponsorships and donated tote bags, golf towels, water bottles, snacks, and drinks:
"Every dollar and donation greatly contributed to the success of this tournament, and we are grateful for the community's support."
This year's first-place team, made up of Allen Layne, Mark Keith, Nathan Halcomb, and Jacob Cornett, was sponsored by Ronnie C. Cox Law Office.
Tying for second place were teams that included Boots Stewart, James Holland, James Smith, Jeff Ledford, Randy Brackett, Tommy Polson, Brayden Casolari, and Shelby Parrott.
Winner of the longest drive was James Smith, and Jonathan Wilder won closest to the pin. Danny Caudill won the drawing for the Callaway golf bag.
"Thanks to everyone who made this yearly tradition possible," said Southeast President Vic Adams. "Not only does it offer us a chance to enjoy a friendly round of golf, but these scholarships give our students the confidence that they need to achieve their dreams."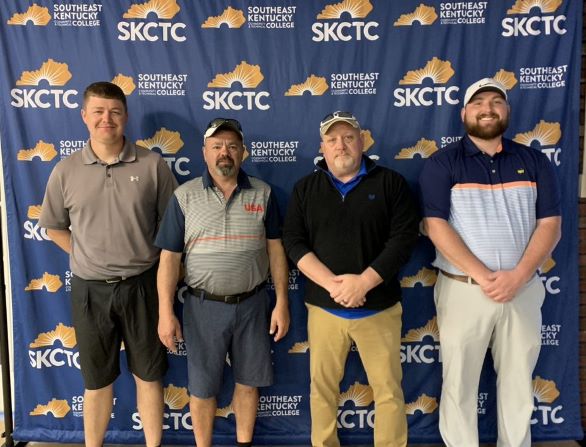 (From L: Jacob Cornett, Mark Keith, Allen Layne, and Nathan Halcomb won first place in the 2022 Lillian Faye Simpson Golf Classic.