Former Lynch Residents Create Southeast Scholarship
Cumberland, KY – At 91, Barney Sword Jr. understands the importance of family and the strength of a helping hand. That is why he and his family have created a scholarship in memory of their parents. The Mary and Barney Sword Sr. Scholarship Fund will benefit Southeast students from the Tri-Cities, an area Sword knows well. The sixth of eight children, he was raised in the coal camp of Lynch where his father labored as a miner from 1925-1958.
Sword has fond memories of growing up in Lynch: "The boys in the neighborhood and I played in the woods. We built a pond in the creek, and we would spend our time camping and hiking on our own for two or three nights. My parents never worried. We'd sleigh ride down Gap Branch and Hotel Hill, the hill right at Portal 31."
Sword knew that coal mining was not for him, yet dreams of college remained elusive during his senior year of high school. A classmate told him about the Kentucky Highway Department giving tests in Somerset to award $500 engineering scholarships to the University of Kentucky. They joined a friend for the car ride the next morning and all three took the test. Although the test went smoothly, the trip home proved to be another matter. As the young men left Somerset, they encountered a large group of young people.
"There were kids all over, waving and girls were waving at us," he said. "We weren't paying attention to the road because we were so busy waving at the girls, so we ran into the back of a flat bed timber truck. The grille got smashed, the hood crumbled, and the radiator was busted. Needless to say, the girls got a big charge out of it."
The friends spent the night in a hotel that had only one room with twin beds while the car was repaired. The next morning, they found the radiator repaired but that the grille and hood could not be replaced.
"So we drove back with no grille and no hood," said Sword. "I never did find out what our driver-friend told his parents."
After a couple of months, Sword was notified that he got one of the scholarships, an opportunity that would set him on the path to success.
"Back then, $500 would go a long way," he said. "At that time, tuition was only $55 a semester. A room with two other guys was also $55 a semester. I did odds-and-ends work the first year and worked for the Kentucky Highway Department every summer and several days a week during the school year."
At UK, Sword earned a bachelor's degree in civil engineering. He also received a commission in the Army and spent two years on active duty in Germany with the Second Armored Division, ascending to the rank of First Lieutenant. After returning to the States, he remained in the Army Reserves for another six years, and during that time was promoted to Captain. Until his stint in the military, he had never traveled on a ship or an airplane. In fact, his car rides had been few since the family never owned one.
After separation from the Army, he worked for a Lexington engineering firm for several years. He continued his education, eventually earning an MBA, also from UK. He took a job with the Veterans Administration where he worked as the hospital chief engineer for 25 years. His VA career took him to South Carolina, Nebraska, and Missouri. Although Sword's career took him several places, he and his family remained close.
"My parents took their first plane ride to visit my family in Lincoln, Nebraska," he said. "Although they had very little formal education, they supported me while I was in college, sending money whenever they could. One time I found out they had borrowed money from the bank to send me without telling me. I made sure that I paid it back with money from an ROTC camp I had attended during the summer. They were wonderful parents."
While his mother was able to finish the eighth grade, his father's education was halted in the third. Nevertheless, the family valued education and read often, staying up to date on the political affairs of the day. In fact, it was a gift from his father that turned Sword into an avid reader.
"In 1965, I picked up a copy of Night Comes to the Cumberlands by Harry Caudill that my dad had bought for me. I couldn't put it down. It made such an impression on me, and I have been a heavy reader since then. It bumped up my grades in graduate school one full letter. I wrote better because I read more."
Sword survives his wife Billie Sue of nearly 57 years and his son Bill. He has two sisters still living, Faye Owens, age 96 (LHS 1944), of LaGrange, KY, and Dorothy Sams, age 87(LHS 1953), of Louisville, KY. Faye was married to a WWII veteran from Lynch, Vencil Owens. Vencil was shot down over Berlin and a prisoner of war for 13 months until he escaped near the end of the war. Barney and Billie Sue had four children, two daughters and two sons. His daughter Cindi lives in Kansas City, MO while Anne is his neighbor in Columbia, MO. His son Chuck lives in St Louis, MO. Barney is blessed with many grandchildren.
In conversations with his sisters and his children, the idea for a college scholarship in memory of Mary and Barney Sr. was born. This award will pay the tuition of a student from the Tri-Cities who, as with Sword many years ago, has good academic standing and who displays financial need. Sword understands from his own experiences the difference a scholarship can make.
He also treasures the time he spends with his family. An avid runner, Sword and his grown children and their spouses hike in Colorado regularly, and he and his daughter Anne run races in Missouri as well as some closer to his old Kentucky home.
"In 2017, the 100th birthday of Lynch, they held a 5K race. Anne and I ran in that race, and we both won medals. I was 85 then. I came in first in the over-50 age bracket."
Despite his remarkable accomplishments and longevity, Sword emphasizes that the Mary and Barney Sword Sr. Scholarship is about his first priority: family.
"It is not just from me. My children and my sisters also support it and will give towards it," said Sword. It is above all else, a family scholarship.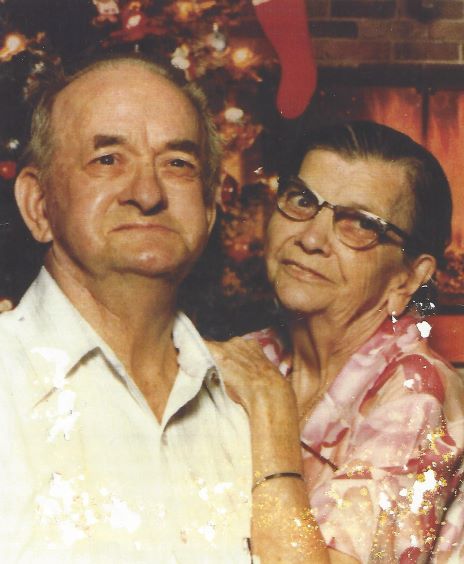 Former Lynch resident Barney Sword, Jr. and his family have created a Southeast scholarship to honor his late parents, Mary and Barney Sword, Sr.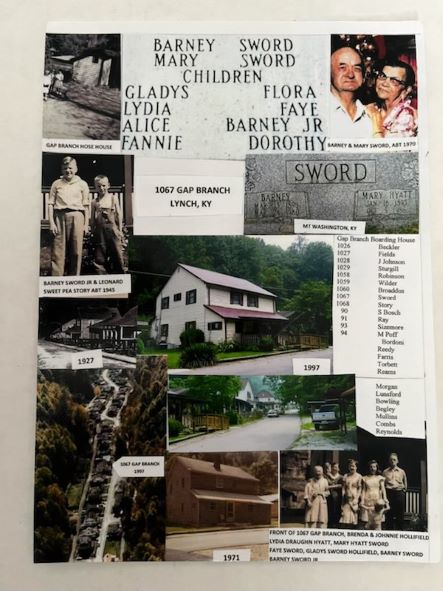 Barney Sword, Jr. shared a collage of treasured family pictures from Lynch, some dating back to the 1920's.