Southeast Choir to begin fall rehearsals
The Southeast Kentucky Community and Technical College (SKCTC) Choir announces its new season of enrollment. Under the direction of SKCTC instructor Ryland Pope, the choir will open its fall rehearsals at 7:00 p.m. Tuesday, August 23, at the SKCTC Harlan Campus auditorium.
The Southeast Choir has a long-standing history in Harlan County, which reaches back to the 1970s and the founding of the College. Community members of all ages are invited to join. All participants must follow the College's health and safety protocol by masking and social distancing.
For more information, contact Director Ryland Pope at tpope0008@kctcs.edu.
Artists Bios:
Ryland Pope is a graduate of Georgetown College with a bachelor of arts in music. He earned a master of arts in music from the University of Tennessee.
His performance credits are many. With the Knoxville Opera, he has performed: Prince Yamadori from Madama Butterfly and Fiorella, from Il barbiere di Siviglia. With Highlands Light Opera, Ryland has performed: Pirate King, from Pirates of Penzance. With the University of Tennessee Opera Theatre, Ryland has performed: Sid, from Albert Herring, and Belcore, from L'Elisir d'amore. With Georgetown College Lyric Theatre Society, Ryland has performed Peter, from Hansel and Gretel and Conte Robinson, from Il matrimonio segreto. With Maskrafters, Georgetown College's Theatre Group, Ryland performed the lead role Georg Nowack from She Loves Me. He will perform with Marble City Opera of Knoxville, Tennessee, the role of Silvio in the upcoming production of Il Pagliacci.
Ryland serves Southeast Kentucky Community and Technical College as musical director for Higher Ground and this organization's recent production of "Shift Change: a 2020 Vision". For this production, he wrote the original compositions "Bring Out the Ugly", "Bear Waddle Blues" and arranged for SATB multiple choirs, "Shall We Gather at the River." Ryland has studied with Maestro David Jones of New York City and employs renowned Lexington pianist, Cliff Jackson, as a vocal coach.
Clara Atkins-Pope serves Southeast Kentucky Community and Technical College as accompanist for the Southeast Choir. She is also master instructor at the Studio of Piano Fine Arts, Inc., which she founded in 1980. A graduate of Centre College, Clara holds a bachelor of arts degree in music. She has been a recognized artist by the Kentucky Arts Council and has been the recipient of two Individual Artist Grants, awarded by KAC, as well as an Encouragement Grant from the Kentucky Foundation for Women. In addition to teaching piano, violin, guitar, harp, and flute at the Studio, Clara serves the Harlan Independent School District as assistant director/accompanist for the Harlan Musettes, Harlan Middle School Choir, and Harlan Boys Choir. With the Harlan Elementary Choir, she serves as piano accompanist/director.
Clara founded The Pleasant Mountains Music Festival, which provided arts programming for children and adults for over 20 years. She also cofounded The Pleasant Mountains Performing Arts & Artists' Association, Inc., which provided arts programming and music scholarships to students for many years. Clara is a composer, performer, and teacher of piano, violin, Celtic harp, flute, guitar, and numerous folk instruments. Her composed works are "Soothing Melodies on Ancient Modes" for Celtic Harp Ensemble, "Eolian Winds", Celtic harp original works and arrangements of traditional Celtic tunes; and "Jubal's Song", for SATB Choir and Celtic Harp. Performances have included "Folksongs from the English-Speaking World", "Women's Songs" & "The Hills are Alive", with soprano Gail Morfesis; and "Five Mystical Songs" by Ralph Vaughn Williams, in conjunction with baritone, Ryland Pope, and numerous appearances at the Black Mountain Chamber Music Series, hosted by Ann Schertz. Clara serves as an organist at Christ Episcopal Church, in Harlan and as a substitute organist at St. Mary's Episcopal Church in Middlesboro, KY.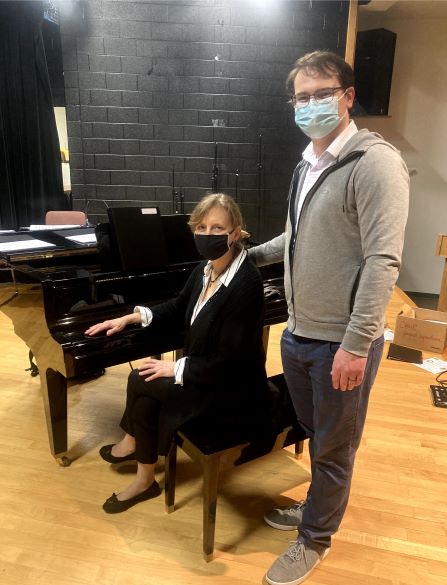 (Photo Caption: Mother and son duo, Clara Atkins-Pope and Ryland Pope, are set to begin fall rehearsals of the Southeast Choir on Tuesday, August 23.)