KABHE presents Andrea Massey with Dr. Carolyn Sundy Warrior Award
Andrea D. Massey, Counselor/Ready to Work Coordinator at Southeast Kentucky Community and Technical College, has received the first Dr. Carolyn Sundy Warrior Award given by the Kentucky Association of Blacks in Higher Education (KABHE) at the annual conference in April.
Sundy was one of the original founders of the organization which has been "the premier organization supporting diversity efforts throughout the Commonwealth" since its inception in 1983. According to the KABHE website, the organization's purpose is to "promote the advancement of Blacks in higher education by articulating needs and concerns, promoting unity and cooperation, and enhancing the personal and professional growth of its membership." To be eligible for the award named in Sundy's honor, candidates must have at least 10 years of higher education experience in the state of Kentucky and a proven record of student advocacy.
Marlisa Austin, Professor and Coordinator of African American Studies at Jefferson Community and Technical College in Louisville, said that Andrea was chosen because she is "a champion for students."
She called Andrea "a warrior in her own right," someone who worked tirelessly with Dr. Sundy at Southeast for many years, "empowering students and colleagues alike."
Austin said that her connection with Massey began in their shared hometown of Lynch. After she enrolled in classes at Southeast, that connection deepened. Massey and Dr. Sundy worked with TRIO, Upward Bound and Student Support Services programs.
"They were both already well established in the community, through education and service. But at Southeast, they were a great team, dedicated to all aspects of their work, from promotion to recruitment. Andrea was a point person within the program, always making sure things ran smoothly," she said.
When they invited her to attend the KABHE's annual conference, "They introduced me to a whole new world of seeing outstanding educators and leaders in higher education in the state, leaders who looked like me and inspired me to pursue my career," she said.
Massey has devoted many years of service to several community groups and professional organizations, including the ARH Board of Trustees, Kentucky for the Commonwealth, University of Kentucky – Cares Committee, Leadership Harlan County and KABHE, and she has served as president of the Eastern Kentucky Civic Club Tennessee Chapter. With KABHE, Andrea has served many roles, including corresponding secretary, southeast regional representative, and conference co-chair.
"Andrea and Dr. Sundy were the ones who encouraged me to pursue leadership opportunities in the organization," said Austin. "I do not think there has ever been a conference in which Andrea or the students at Southeast did not attend."
Professor Austin said that it is "an honor" for the KABHE to present Andrea with the Dr. Carolyn Sundy Warrior Award. "What I saw and still see in Andrea is a caring, compassionate motivator for her students and the community in which she serves," she said. "I am blessed because she and Dr. Sundy, two strong women working together, have had such a profound impact on me, both personally and professionally."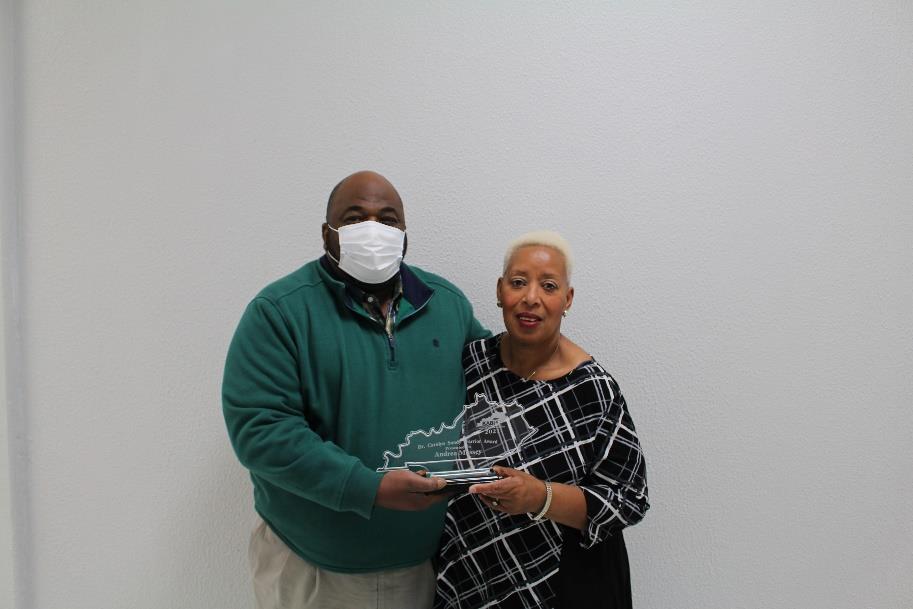 Southeast graduate Dr. Tony E. Sweatt of GEARUP East Kentucky presented Massey with the Dr. Carolyn Sundy Warrior Award.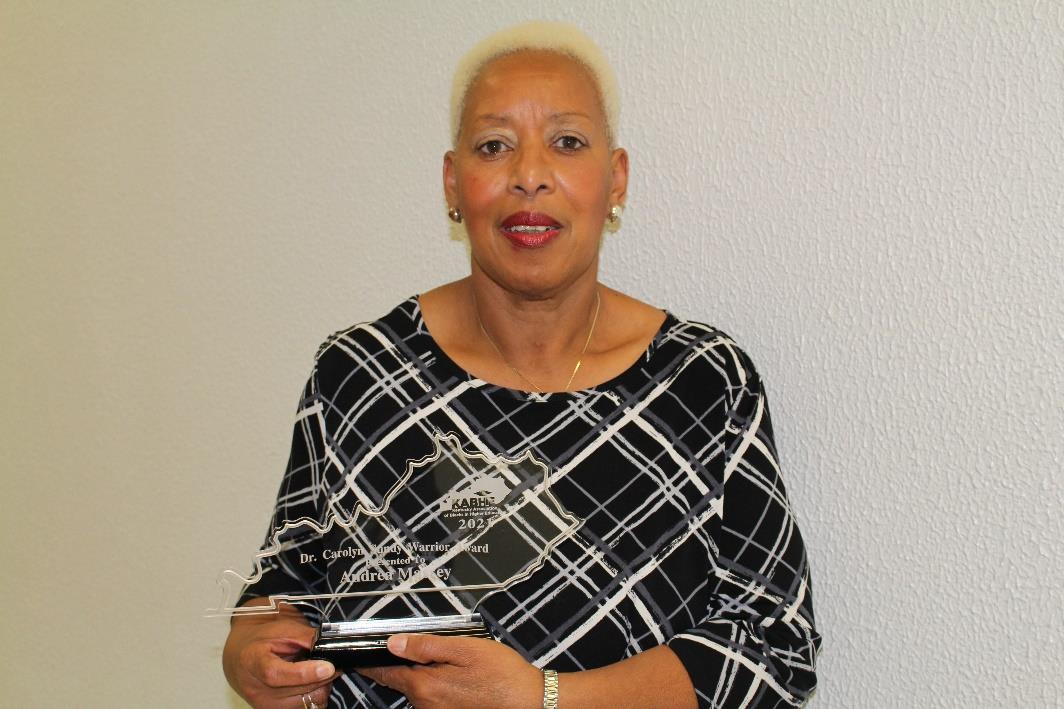 At the annual KABHE conference, Andrea Massey received the first Dr. Carolyn Sundy Warrior Award.