Higher Ground announces their ninth play, Shift Change
Cumberland, Ky. - Higher Ground, a part of the Southeast Kentucky Community and Technical College (SKCTC) Appalachian Program, is thrilled to announce its 9th community performance, Shift Change. The original musical drama, created in the past year by community members and local and guest artists, is based on interviews collected by SKCTC students and community members.
Shift Change uses story and song to process the events that have shaped the course of the past year. The family-friendly play explores Harlan's African-American history, in particular the Georgetown community, and includes a discussion of a Black Lives Matter rally in Harlan in June 2020 and the role of law enforcement in the community.
Directed by Keith McGill of Louisville, the play also explores the community's response to the coronavirus pandemic. SKCTC Creative Director Kate Handzlik serves as the production's assistant director and stage manager. SKCTC Creative Instructor Ryland Pope teams with Harlan-based band The Kudzu Killers on original musical arrangements. Chicago-based Kevin Iega Jeff of Deeply Rooted is choreographer with aerial dance from Sierra Hatfield and Bridgett Howard. Maranda DeBusk of Atlanta is lighting designer and Cassidy Wright is production designer. Over 75 community members have been involved in the production of Shift Change.
Show dates are April 23, 24, 30 and May 1 at 7:30 pm at Southeast Kentucky Community and Technical College's Harlan Campus, 164 Ballpark Rd. Harlan, KY 40831. The production will be staged outdoors with some actors and musicians pre-recorded and presented onscreen and some live. Attendees will have the option to sit socially distanced or watch from their vehicles. Masks are required of all patrons. Reservations are highly recommended. For more information, please call (606) 589-3136 or email Kate Handzlik at khandzlik0001@kctcs.edu.
Support for Shift Change and Higher Ground comes from Brook and Pam Smith, AlternateROOTS, and Southeast President Vic Adams and the SKCTC administration.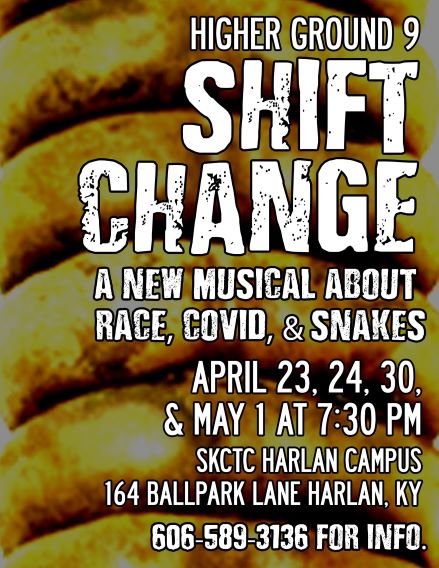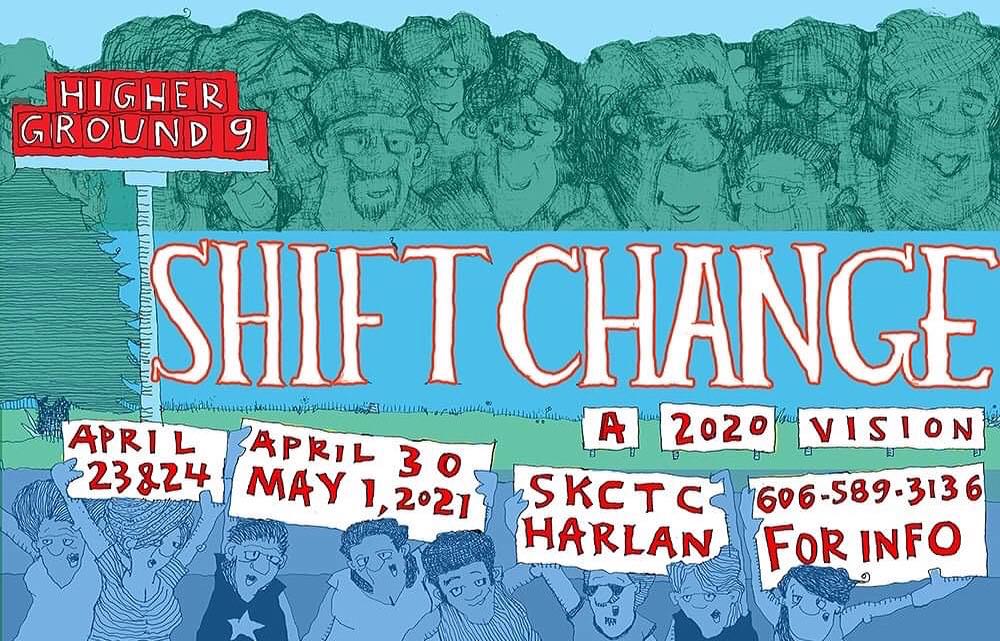 Higher Ground will perform its ninth play next month in Harlan.