Southeast welcomes a new director of diversity
As staff and faculty at Southeast Kentucky Community and Technical College transition back to in-person service delivery, they will greet many familiar faces. They will also welcome a new one: Meau Jones, director of diversity and special programs.
The 6'5" native of Hartwell, Georgia has big shoes to fill. The position was created following the death of Dr. Carolyn Sundy, the College's longtime vice president of diversity and inclusion.
"I want to learn as much as I can about Dr. Sundy and her many achievements," said Jones. "My role will be to maintain her success, her vision, and all that she put into place."
An avid outdoorsman, Meau (pronounced "Mō") also plans to observe and become an active part of the community.
"It's very important to me to get to know people and to listen to their stories," he said. "I want to understand what the people of Appalachia need and want, what obstacles they face. Then I will have a better idea of the types of supports and programs we should put in place."
Meau's passion for helping underserved students was partly inspired by his own humble beginnings. The only child of a single mother and grandson of a sharecropper, he was an accomplished high school basketball player. Unfortunately, college athletic programs overlooked him because of his "not the best" GPA and his "short" stature. He graduated from high school faced with few options besides taking a plant job. Jones says that he enrolled in a nearby two-year college, Truett McConnell Baptist College, (Truett McConnell University) because his mother felt the small, strict school would keep him on the right path.
Jones eventually earned a bachelor's degree in psychology and communications from Rio Grande University and Rio Grande Community College in Ohio. Advertised as "twin" colleges, the institution offers its general education courses from the community college branch. He later earned a master's degree in educational leadership and coaching.
Jones transitioned to the University of Rio Grande and Rio Grande Community college to further his basketball and academic career. After he graduated, he was offered a full-time position. Jones use that opportunity to work full time while pursuing his master's degree.
While in college, Meau met his wife Samantha through mutual friends. A UK Softball alumna, she took the job of head softball coach at Morehead University three years ago, and he followed her to the area. The couple live in London, KY with their two sons, four-year-old Parker Reid and seven-month-old Asher Bennett.
Jones says that his passion is helping young black men achieve a sense of purpose, but he brings that same energy to helping all students.
"I want to develop specific diversity plans for each individual," he said. "I want to help people achieve what I call 'self-authorship' so that they will be better equipped to steer their own course towards success. I also believe that in order to reach this goal, more people need places at the table. After all, if you're not at the table, you're on the menu."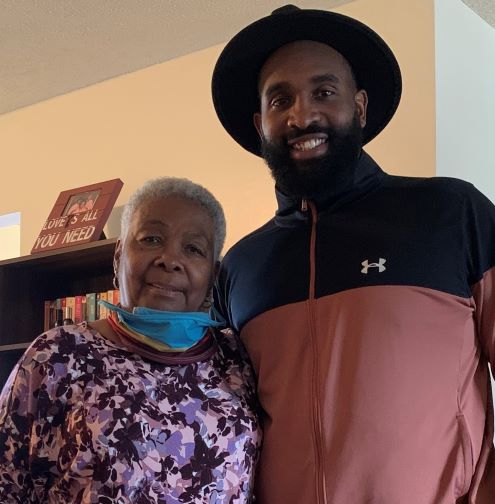 Southeast's Director of Diversity Meau Jones, pictured here with his grandmother Louise, eagerly steps into his new role.