Southeast employee pens fourth book, this one for children
Most people at Southeast Kentucky Community and Technical College know William Hughes as a longtime employee. As of this July, he will have worked for maintenance and operations on the Cumberland Campus for 33 years. What many people may not know is that he is also a gifted writer with a vivid imagination.
According to William, he knew as a child that he had a talent for writing, writing his first story in the first grade. As a high school junior, he wrote a 12-page short story for an assignment. In 2006, he picked up writing again as a hobby. He knew he had the ability, but he needed the inspiration.
Hughes credits Dr. Bruce Ayers, Southeast's former president, for giving him that inspiration. With help from Dr. Ayers, he published his first book of fiction for young adults, The Orion Nebula Adventure, in 2010. He quickly followed up with Chayce Jackson's Space Adventure (2012) and Chayce Jackson Bounty Hunter: Crisis in the Federation (2014). All three are available in the SKCTC Cumberland, Middlesboro, and Whitesburg campus libraries.
When his small publisher closed its doors, he republished them through Amazon within one 664-page collection: Chayce Jackson's Space Chronicles. Just last month, he published his first book for children, Chayce and Myles' Adventure on the Farm, also available on Amazon. Southeast graduate Eddie Mcllquham provided the illustrations.
Professor Lige Buell, who serves as campus director for the Harlan and Cumberland campuses, knows William well, having been his "professor, advisor, supervisor, and friend." He describes the Southeast graduate as a "hardworking, sensitive, creative person with an imagination."
William's wife Amanda, who works as curator of the Kentucky Coal Museum, and their sons Chayce and Myles continue to inspire his story lines. "One little known fact," he said, is that Southeast employee Chek Carruba inspired the character Dylan who appears in his stories. "Ralph White, Merrill Galloway, Josh Howard, and even Dr. Ayers make appearances in 'Chayce Jackson's Space Chronicles.' "
William says he is blessed that so many people around him support and encourage his efforts, including Professor Buell. Looking back through the years of William's journey, Buell reflects on his talent and how far he has come. "I am proud to know Sir William Hughes," he said. "What a detailed imagination!"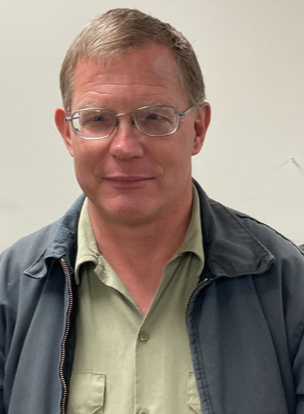 Southeast employee William Hughes has published his first picture book for children, Chayce and Myles' Adventure on the Farm, available on Amazon.